As a registered dietitian and professional recipe developer, grocery shopping is literally part of my job. I've pickled up a few helpful tips and tricks along the way. In this post, I'm sharing my go-to Vegetarian Grocery List, along with best practices for saving money on groceries.
Heading to the grocery store shouldn't stress you out. Use this guide to stock up your kitchen with ease instead!
How to Use This Grocery List
Understand that this list is only intended to be a general guide. Buy only what works for you and your family and leave the rest behind.
You don't need to purchase everything on the list. It's totally fine to stock your pantry gradually over time.
Include foods that fit your preferences and cultural traditions, and eliminate those that don't. This list is based on the foods that I personally like to keep in my kitchen. You'll probably like to stock some different items and that's great!
Include a few "fun foods," especially in the snack and dessert department. Eating plant-based doesn't mean you have to feel restricted or deprived!
Be sure to add ingredients for any recipes or new dishes you want to try. I have a free guide with 100+ vegetarian ideas if you need some help getting started!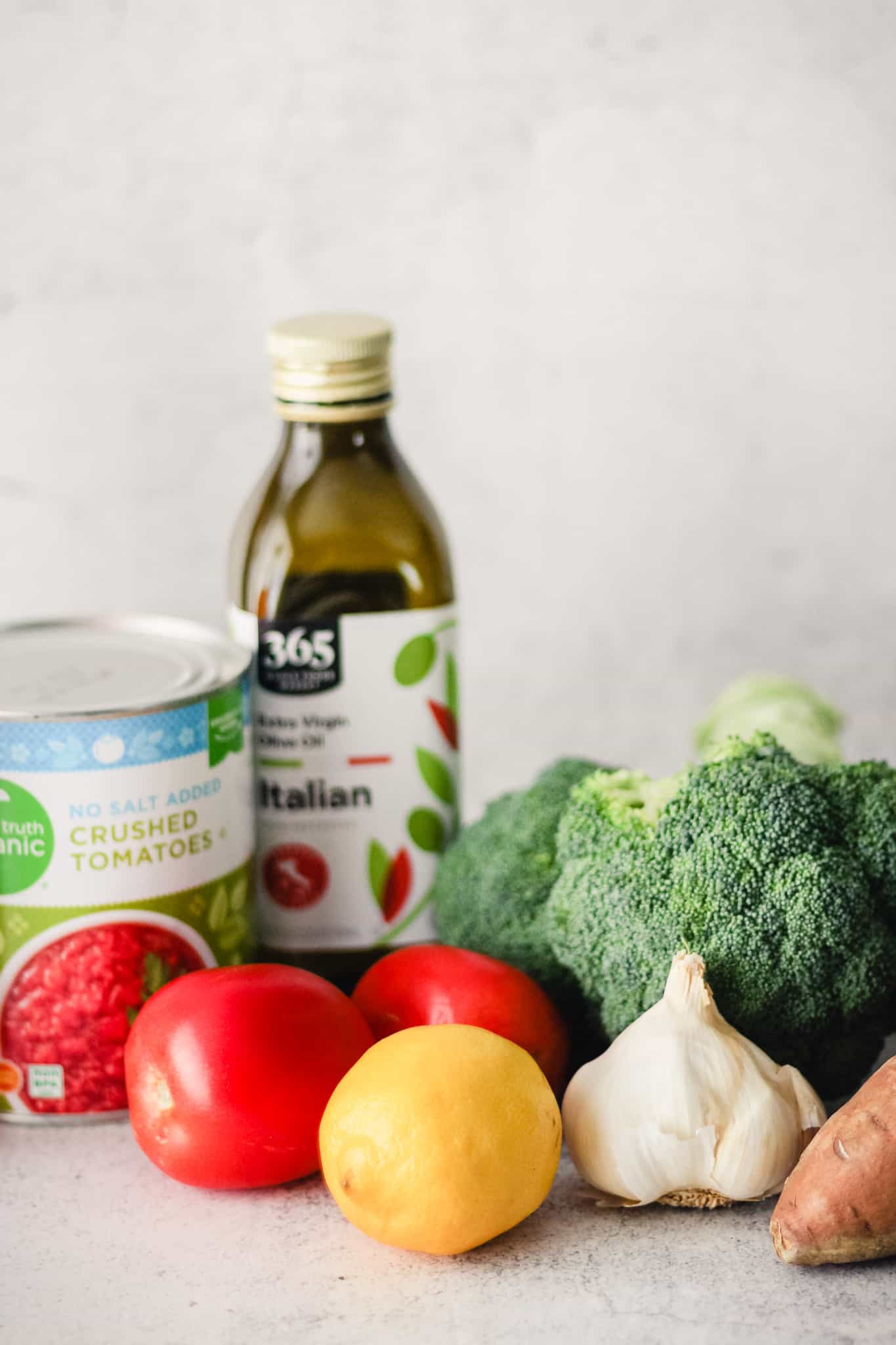 Vegetarian Grocery List
Download a printable version of this grocery list here.
Fresh Produce
1-2 dark leafy greens (i.e. spinach, kale)
Onions
Garlic
Carrots
Tomatoes
2-4 "dinner vegetables" (i.e. broccoli, Brussels sprouts, mushrooms, bell peppers, asparagus, potatoes, sweet potatoes)
Bananas
Avocado
Lemons
Limes
1-2 seasonal fruits (i.e. oranges, apples, berries)
Fresh herbs (i.e. basil, cilantro, parsley)
Jalapeño peppers
Dates
Bakery
Bread and/or buns/sandwich rolls
Tortillas (small for tacos, large for burritos and wraps)
Dessert
Grains and Pulses
Pasta
Oats
Rice
Rice noodles
Popcorn
1-2 additional whole grains (i.e. farro, barley, quinoa)
Lentils
Dry beans or peas
Nuts and Seeds
Peanut butter or nut butter (i.e. almond butter, cashew butter)
Tahini
Chia seeds
Flaxseeds
1-2 additional nuts and seeds (i.e. walnuts, pecans, almonds, cashews, sunflower seeds, pumpkin seeds)
Canned Goods
2-3 canned beans (i.e. chickpeas, black beans, kidney beans)
Canned tomatoes
Canned coconut milk
Other Pantry Staples
Flour
Baking powder
Baking soda
Sugar
Maple syrup
Nutritional yeast
Shredded coconut
Extra virgin olive oil
1-2 cooking oils (i.e. grapeseed oil, coconut oil, avocado oil)
2-3 vinegars (i.e. apple cider vinegar, rice vinegar, balsamic vinegar, red wine vinegar)
Spices and dried herbs (i.e. garlic powder, onion powder, cumin, chili powder, curry powder, cayenne pepper, cinnamon, salt, pepper)
Vanilla extract
Soy sauce
Condiments (i.e. ketchup, mustard, mayonnaise)
Vegetable broth
Olives
Fruit spread
Chocolate chips
Snacks/Convenience Foods
Tortilla chips and salsa
Dried fruit
Prepared soups
Energy bars
Cereal or granola
Beverages
Coffee
Matcha
Caffeine-free herbal tea
Sparkling water
Refrigerated Foods
Tofu
Tempeh
Milk of choice (i.e. oat milk, soy milk, almond milk, cow's milk)
Yogurt and/or dairy-free yogurt alternative
Butter
Cheese
Eggs
Miso
Fermented pickled vegetables (i.e. kimchi, sauerkraut)
Hummus
Frozen Foods
2-3 frozen vegetables (i.e. corn, peas, spinach, broccoli)
1-2 frozen fruits (i.e. wild blueberries, tropical fruit blend)
Edamame
Frozen convenience foods (i.e. frozen cheese/veggie pizza, frozen bean burritos, frozen bean burgers)
Ice cream or dairy-free frozen dessert
Other Kitchen Essentials
Paper towels
Dish soap
Parchment paper and/or aluminum foil
Printable Vegetarian Grocery List
For your convenience, I also created a printable, PDF version of this vegetarian grocery list.
Access the printable grocery list here.
Grocery Shopping Tips
Make a List and Plan Some Meals in Advance
The first step of any successful grocery store outing is to have a plan.
Use this grocery list to get you started with the basics. Also, plan a few recipes or meals that you want to make during the week ahead, and add any necessary ingredients to your list.
If you need some recipe ideas, I have a free resource with 100+ Vegetarian Meal Prep Ideas. My ebook, Easy Vegetarian Meal Prep, is another helpful guide to keep on hand.
Look for Seasonal Produce
Choosing seasonal produce is a smart way to save on groceries while maximizing flavor and nutrient content.
Check out my seasonal produce guide for more information.
Only Buy What You'll Use
Especially when it comes to produce and fresh bakery, try to only buy what you'll actually use to reduce food waste. Supplement fresh foods with canned goods and frozen items to hold you over until your next trip to the store.
If you accidentally buy too much, you can freeze most types of fresh produce and baked goods so they last longer. Making a big batch of soup is a great way to use up extra veggies, too!
DON'T Only Shop the Perimeter
Have you ever heard that you should only shop the perimeter of the grocery store? This advice is completely outdated!
There are so many nutritious and convenient items in the central aisles of most grocery stores. This is where you'll usually find healthy pantry staples like oats, canned beans, rice, olive oil, and chia seeds. Don't skip this part of the store!
Check the Bulk Section
If you're stocking up on pantry staples, don't forget to check the bulk section. You can often save money on items purchased in bulk and you can also bring your own reusable containers to reduce packaging waste.
Balance Price and Convenience
Understand that there's usually a price for convenience. For example, a package of chopped butternut squash will probably cost more than a whole squash that you have to cut up yourself.
Neither of these is necessarily a bad choice—you just have to weigh out the pros and cons. Is saving money or spending less time prepping your meals more important to you in this phase of life?
DON'T Skip Convenience Foods and Fun Foods
Have you ever stocked up on tons of healthy ingredients and then felt like you have nothing to eat as soon as you get home? I know I've been there.
You're probably not always going to feel like prepping a bunch of meals and snacks from scratch, and that's okay.
I like to buy a couple of convenience foods (canned soups and a frozen pizza are my go-to's) in case I don't have the time or energy to cook all of the time.
Besides keeping hunger at bay, including a few convenient meals and snacks could actually save you money in the long run because you won't need to order takeout or delivery.
Bring Reusable Bags
Last but not least, because we can always use another reminder, don't forget your reusable bags! 🙂
[convertkit form=3075241]
Save This Guide on Pinterest