Looking for veggie recipe ideas to pack for work? These easy vegetarian lunches are quick, healthy, and so delicious. Say goodbye to your sad desk lunch. You're not going to find any boring, ho-hum salads here!
If you're new to plant-based eating, you may be wondering how to replace your regular deli sandwich during the week. And even if you've been a vegetarian for years, there's always room for a few fresh lunch ideas!
That's why I put together this collection of the best healthy and easy vegetarian lunches to pack for work.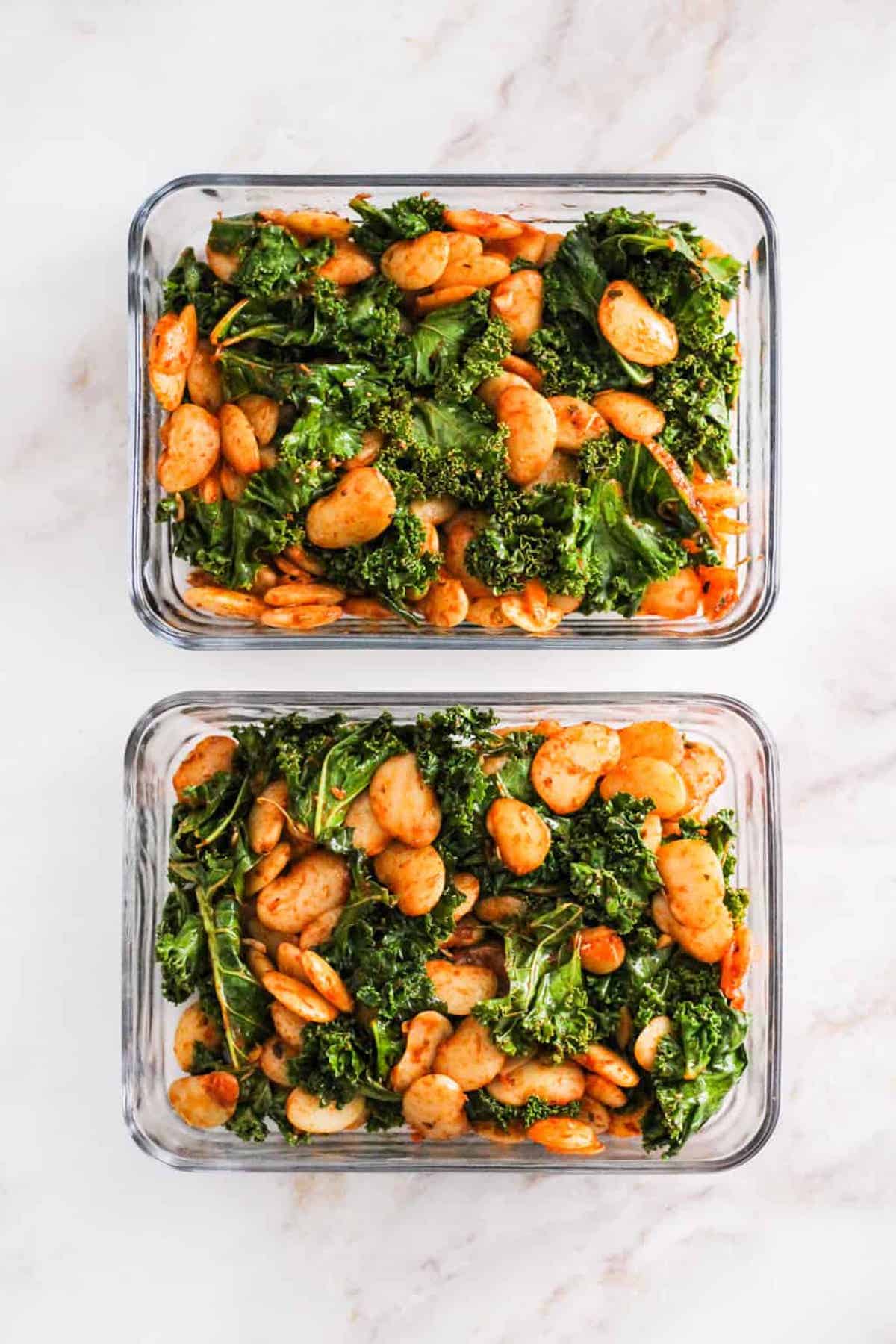 What Should a Vegetarian Eat for Lunch?
There are so many different plant-based lunches out there, but I have one top tip if you want to feel full and satisfied after a vegetarian meal. Make sure you include a balance of nutrients.
Try to choose at least one food from each of these categories:
Protein - beans, lentils, chickpeas, tofu, tempeh, edamame, dry peas
Starchy carbohydrates - bread, pasta, farro, barley, quinoa, rice, tortillas
Fat - avocado, peanut butter, olive oil, cheese, tahini, full-fat yogurt, nuts, seeds
Produce - include any fruits and vegetables you like (fresh, frozen, and canned are all great!)
A few of my favorite vegetarian lunch options are coconut curry, chickpea sandwiches, pasta, and grain salads. Find recipes for each of these ideas below!
What is the Easiest Thing to Make for Lunch?
There are 31 tasty vegetarian lunch ideas in the collection below (one for every day of the month!). But sometimes you're running late and just need something really fast.
So here are a few super easy to make, 5-minute lunches that only require a few ingredients:
Hummus with vegetables (tomato, cucumber, bell pepper) and feta cheese on pita bread
Peanut butter and jelly sandwich (I like to use 100% fruit spread)
Cheese sandwich with lettuce, tomato, onion, and pickles
Tortilla chips with vegetarian refried beans, guacamole, and pico de gallo (Heat up the refried beans in the microwave and top with cheese for a quick, high-protein dip)
Avocado toast with sliced tomato and hemp hearts
Leftovers!
Hint: These options are perfect for beginners, too.
Jump to:
Which foods are best for packed lunches?
The best easy vegetarian lunches to prep ahead of time and bring with you to work are:
Tips for Packing Your Lunch
Batch cook a large pot of soup or a casserole every Sunday. Then, portion it into separate, microwave-safe containers that are easy to grab each morning.
In general, keep dressings in separate containers. This prevents your salad from getting soggy.
Separate anything that's supposed to stay crispy, such as tortilla strips, croutons, or roasted chickpeas. I like to use glass containers with dividers for these types of meals.
To keep avocados from getting brown, either spritz them with lime juice or pack them whole and slice immediately before eating.
Coat apple and pear slices with lemon juice to prevent them from browning.
Some foods (like creamy dressings, sauces, and stews) thicken in the fridge. You may need to stir in a splash of water to thin them out. Start with a spoonful of water and gradually add more as needed.
Beans and rice are a fantastic option if you're looking for something cheap. Read my Vegetarian Grocery List and Shopping Tips post for more info about eating on a budget.
I also published my favorite Vegetarian Meal Prep Ideas and Vegetarian Freezer Meals if you want some more recipe inspiration.
Okay, let's get to the recipes!
Make-Ahead Soups
Cook a big batch of one of these vegetarian soup recipes and you'll be set for lunch all week. (Even longer if you stockpile your makings in the freezer.)
When you're choosing an entree soup, look for a mix of fiber from vegetables and grains and plant-based protein from pulses (beans, lentils, chickpeas, and dry peas). This balance will help you feel full and satisfied longer.
Vegetarian Salads
Trust me, you can make a filling vegetarian salad that isn't boring!
Look for balanced recipes with lots of variety. The best salads have a mix of colors, textures, flavors, and nutrients.
And don't leave off the dressing! It provides so much yummy flavor, along with satisfying fats.
Hint: You can find more interesting vegan salad ideas in this post.
Meatless Sandwiches and Wraps
Sandwiches and wraps are classic lunch food. They're just so convenient and easy to eat.
If you're on the hunt for some meat-free sandwich and wrap options, add these plant-powered ideas to your list.
Grain Bowls
The options for vegetarian grain bowls are endless. And they're already really well-balanced meals by definition!
Just combine cooked grains with a source of plant-based protein (beans, edamame, tofu), colorful produce, and a creamy sauce.
Pasta and Noodles
Pasta and asian-style noodles are easy to reheat and often taste great cold, too. This makes them ideal for office lunches.
Cook a big batch for dinner and bring leftovers to nosh on the next day. It doesn't get any simpler!
Indian-Inspired Lunches
Indian-inspired curries are another type of meal that works great as a packed lunch. Simply portion curry into single servings alongside a scoop of rice and reheat when you're ready to eat.
Mexican-Inspired Lunches
Classic Mexican meals, like burritos and tacos, are lunch staples for a good reason. They're a great way to fill up on fiber- and protein-rich beans, along with a mix of veggies.
Try a Mexican-inspired casserole if you're looking for a comforting recipe you can batch cook over the weekend!
More Hot Lunch Ideas
Prep and portion these recipes when you're craving something beyond the typical soup, salad, or sandwich. These recipes also work great as vegetarian dinners. And leftovers make some of the best next-day lunches if you ask me!
Want more?
Find more plant-based cooking tips, tricks, and recipes in my ebook, Easy Vegetarian Meal Prep.