Whether you're brand new to plant-based cooking or a seasoned pro in the kitchen, it's alway nice to gather up a few new vegetarian meal prep ideas.
In this post, I'm sharing some basic principles of vegan and vegetarian meal prep, including reasons why you should make at least some of your meals ahead of time, how to establish a consistent meal prep routine, which kitchen tools and equipment you'll need, and how to stock your pantry before you get started.
Once you're all set up, it's time to start cooking!
You'll find plenty of make-ahead vegan and vegetarian meal prep ideas in the second half of this post. Whether you're looking for healthy breakfast meal prep recipes, convenient grab-and-go lunches, freezer-friendly vegetarian dinners, or something to nosh on in between meals, I've got you covered.
Ready to get started?
Benefits of Meal Prep
In case you need a little motivation to start your meal prepping routine, here are a few of the most important benefits.
You can improve overall nutrition
When you prep your own meals, you get to add as many nutritious ingredients as your heart desires.
You'll save time
Utilize time-saving tricks like batch cooking and partial prep to make mealtimes a breeze on busy weekdays.
Spend less money
If you currently eat out or buy a lot of packaged convenience foods, you can significantly reduce your spending by swapping in a few home-cooked dishes each week.
There are lots of great plant-based options
There are so many pantry-friendly vegetarian proteins that are ideal for meal prep. (Think beans, lentils, and chickpeas, just to name a few.)
There's less food waste (if you do it right)
Make use of ingredients that are about to go bad and utilize your freezer to cut back on kitchen waste.
Manage your hunger with ease
No more hangry days! You'll always have satisfying meals and snacks ready to eat when you meal prep.
Endless customization options
Omit a spice you don't like, add in extra beans for muscle building, or bump up the portion size if you're constantly feeling hungry. Meal prep means countless ways to make your noshes work for you.
Plan ahead to reduce stress
If you know you have a stressful day on the horizon, a little advanced meal prep helps to release some of the mental burdens. Your future self will thank you.
How to Start a Consistent Meal Prep Routine
It's common to feel overwhelmed and discouraged when you're just getting started with meal prep. (Who wants to spend the entire weekend working in the kitchen?) ⁠ ⁠
Luckily, you can make nourishing vegetarian meals without devoting all of your free time to cooking. Here are a few tips that can help you get started without the added stress.
Start with the right tools and equipment
First, you'll need some basic cooking equipment and food storage containers to get started with meal prep. (Check out my list below to make sure you're prepared.)
Stock your pantry with plant-based staples
Keep your kitchen stocked with common vegetarian foods that have a long shelf life, including beans, lentils, canned tomatoes, and dry spices. (More on that later in the post.)
Add helpful resources to your library
My Easy Vegetarian Meal Prep ebook is a comprehensive guide with plant-based nutrition tips, meal prepping formulas and templates, weekly meal plans, and make-ahead recipes. It has everything you need to know before you get started. Add it to your library if you want to make vegetarian meal prepping feel like a no-brainer.
Batch cook
When you're cooking a make-ahead recipe (like soup, curry, or burritos), try doubling the recipe so you have more leftovers. ⁠ ⁠
Use your freezer
Portion and freeze some of your meals for longer storage (this way you don't necessarily have to meal prep every single week). I share more tips for freezing and thawing meals, plus lots of freezer-friendly recipe ideas, in my Vegetarian Freezer Meals post.
Start slow
Choose just one recipe or meal per day (for example, just prep your lunches) to avoid overwhelm when you're just getting started.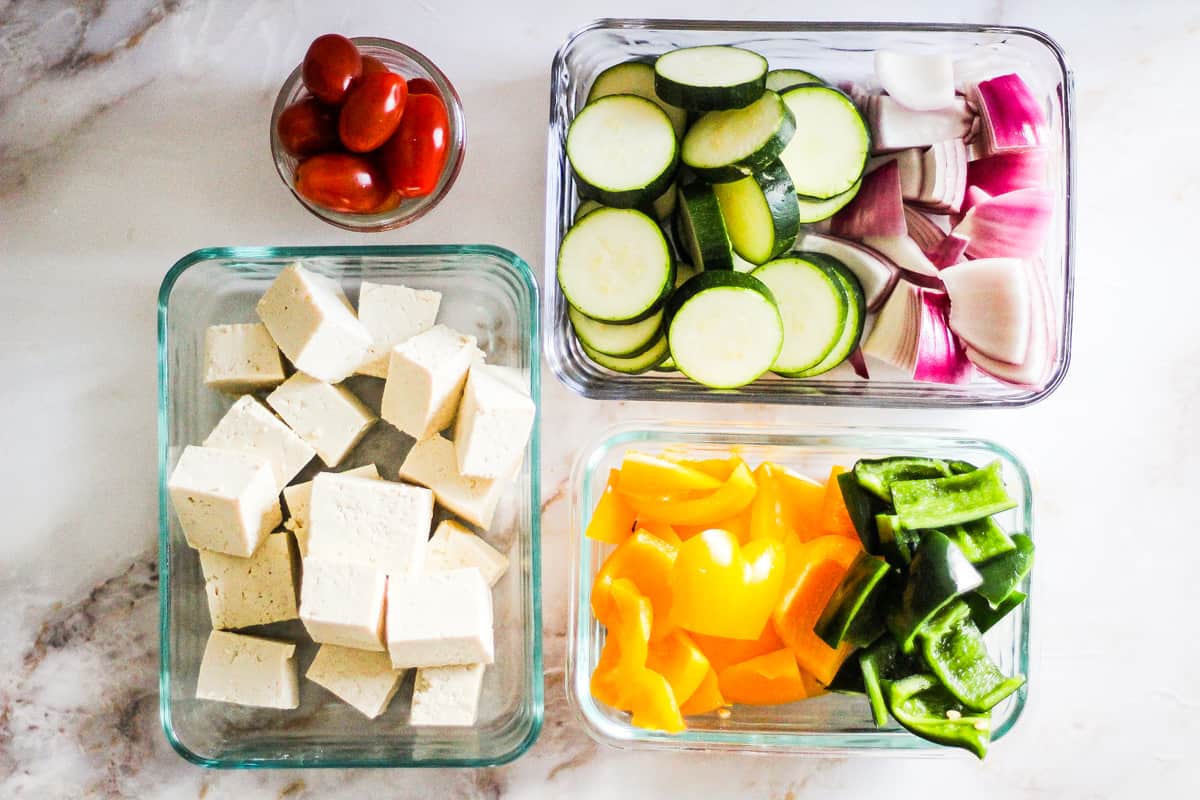 Meal Prep Tools and Equipment
Food Prep Equipment:
Knife and cutting board
Pots with lids
Skillet with lid
Rimmed baking sheets
Muffin tin
Mixing bowls
Colander, fine mesh strainer
Wooden spoons, spatulas, tongs, ladle, whisk, Microplane/grater
Blender and/or food processor (optional but helpful to have for dips, spreads, and sauces)
Pressure cooker, such as an Instant Pot, (optional but helpful to have for cooking dry beans and grains)
Food Storage Equipment:
glass jars with lids
food storage containers with lids
reusable silicone bags or plastic zip-top storage bags
reusable beeswax wrap or plastic wrap
aluminum foil
Plant-Based Pantry Staples
Keep these vegetarian ingredients stocked in your pantry to make meal prepping easier.
Nuts and seeds
I like to buy my nuts and seeds in bulk to save money. Since they have a high amount of oil, they can go bad faster if not stored properly. If stored at room temperature, nuts and seeds can go rancid within a few months, but they'll last 6 months in the fridge and up to a year in the freezer.
Oil
Grapeseed oil, avocado oil, and canola oil are all great for high-heat cooking. Olive oil has a lower smoke point, which makes it a better option for salad dressings and low-heat applications.
Beans and pulses
Beans and other pulses (like chickpeas, lentils, dry peas) are an affordable way to add filling protein and fiber into your snacks and meals. I like to include both canned and dried pulses in my pantry.
Canned tomatoes
Use canned tomatoes as the base for bean chili or pasta sauce. You can buy tomatoes whole, diced, crushed, or pressed into tomato paste.
Grains and pasta
Whole grains, like quinoa, barley, brown rice, and farro, add plant-based nutrients and satisfying texture to soups, salads, and bowls. Dry pasta is another budget-friendly staple to keep on the ready.
Dry Herbs and Spices
Salt, pepper, oregano, rosemary, cumin, and coriander are versatile flavorings to store in your pantry. Spice blends, such as curry powder or chili powder are convenient and help save space since there are multiple ingredients mixed into one small bottle. Spices lose their aroma and flavor with time, so try to buy smaller jars that you know you can use up within a year or so.
Canned or frozen fruits and vegetables
Opt for canned items that are labeled "no sugar added," "no salt added," or "low sodium" if you want them to be nutritionally as close as possible to fresh produce. (You can always add in your own salt and sweeteners later on in the cooking process!)
Vegetarian Meal Prep Recipes
Now that you're set up with a solid meal prepping foundation, it's time to talk recipes! Below are my go-to vegan and vegetarian meal prep ideas. Click on the corresponding links to find the full recipes.
You can also download my free PDF guide with 100+ vegetarian meal prep ideas (and more recipe links) by entering your email address into this form:
Vegetarian Meal Prep Breakfast Ideas
If you don't consider yourself a morning person (and end up skipping breakfast more often than not), meal prep could be your new best friend! Making your breakfast ahead of time means you can hit the snooze button without dealing with that nasty mid-morning fatigue that results from skipping meals.
Some of my favorite healthy meal prep breakfast ideas are overnight oats, egg dishes, pancakes, waffles, muffins, yogurt parfaits, yogurt bowls, energy bars, and energy bites.
Overnight Oats
​Roasted Apple and Pear Overnight Oats - These grab-and-go overnight oats are topped with crunchy pecans and spiced apples and pears.​
​Pumpkin and Coconut Cream Overnight Oats - Pumpkin overnight oats with creamy coconut milk and spicy cinnamon make a delicious meal prep breakfast for fall.
​Egg Dishes
Sweet Potato Breakfast Bowl - A Sweet Potato Breakfast Bowl satisfies the strongest savory cravings. Warm and spicy vegetables are balanced with a bright and creamy tomato avocado salad in this Mexican-inspired morning meal.
Mushroom Goat Cheese Frittata - Sautée mushrooms and spinach and mix with eggs and goat cheese to make a one-pan, beginner-friendly egg dish in just about 30 minutes.
Pancakes and Waffles
​Pumpkin Oat Pancakes - Who wouldn't love a stack of spiced Pumpkin Oat Pancakes piled high with yogurt and fresh fruit?​
​Zucchini Bread Waffles - Even better than zucchini bread, these whole wheat zucchini waffles are quick-and-easy breakfast perfection.
​Muffins
​Lemon Blueberry Muffins - This hearty, whole wheat blueberry muffin recipe is boosted with flax and flavored with fresh lemon, vanilla, and cardamom.
Gluten-Free Golden Milk Muffins - Indian-inspired golden milk in baked-good form! These gluten-free muffins are easy to bake yet packed with healthy nutrients and spicy flavors from turmeric and cinnamon.
​Yogurt Bowls and Parfaits
​Strawberry Yogurt Parfait - This vegan parfait is layered with fresh berries, dairy-free yogurt, and crunchy chocolate chia seed granola.
Golden Milk Granola Parfait - Another way to get in on the Indian-inspired golden milk trend! These yogurt parfaits are flavored with warming spices like turmeric, ginger, and cinnamon.
Vanilla Maca Nut Granola Bowl - This granola bowl is a simple, vegan meal prep breakfast to try at home. Just combine dairy-free yogurt alternative, Vanilla Maca Nut Granola, and sliced fresh fruit to make an exciting morning meal for any day of the week.
Vegan Wild Blueberry Yogurt Alternative Bowls - Dip your spoon into this dairy-free wild blueberry yogurt alternative topped with nutty granola and fresh berries for a delicious start to your day.
​Energy Bars and Bites
​Coconut Matcha Energy Bars - With a combination of nuts, seeds, shredded coconut, and matcha green tea powder, these flavorful energy bars are a healthier alternative to most store-bought energy bars.
Chocolate Nut and Seed Energy Bars - Nuts, seeds, oats, dates, chocolate. All wrapped up in one convenient, nutrient dense energy bar.
Apple Pie Energy Bites - These energy bites combine pecans and oats with apple and dates to create a chewy sweet treat.
​5-Ingredient Matcha Energy Bites - These simple 5-ingredient matcha energy bites are nourishing and delicious for convenient snacking on-the-go.
Vegetarian Meal Prep Lunch Ideas
Whether you're commuting to school or the office, working from home, or a busy stay-at-home parent, a nourishing mid-day meal is key for sustaining your energy levels until dinnertime.
Look for vegetarian lunch recipes that include a source of carbohydrates, fat, and protein for more satisfaction. I like to prep hearty soups, chili, sandwiches, wraps, and grain bowls for this purpose.
Soup and Chili
​8-Ingredient Harissa Bean Chili - Bean chili gets a spicy, garlicky upgrade with the addition of harissa chili pepper paste. A simple, plant-based lunch or dinner recipe that's also freezer-friendly.
​Vegan Corn Chowder - Creamy oat milk is blended with sweet corn and three types of peppers in this vegan corn chowder soup.​
​Freezer-Friendly Taco Soup - This make-ahead taco soup is vegan comfort food at it's best. Filled with vegetables and plant-based protein from 2 types of beans.​
Creamy Spiced Carrot and Lentil Soup - This easy lentil soup features a cozy blend of warming spices (lots of garlic and ginger!), along with rich and creamy coconut milk for added texture.
​Sandwiches and Wraps
​Tomato Mozzarella Sandwiches with Blueberry Balsamic Reduction - Fresh mozzarella and juicy heirloom tomatoes are drizzled with a sweet and tangy Blueberry Balsamic sauce with this easy vegetarian sandwich recipe.​
Garlic Tarragon Apple and Roasted Beet Sandwiches - Sweet and earthy beets and apples are combined with fresh tarragon and garlic herb spread in this award-winning vegan lunch recipe.
​Black Lentil Collard Wraps with Almond Sauce - Collard greens are topped with a colorful mix of sautéed vegetables and black lentils and drizzled with creamy almond sauce in this low-waste lunch recipe.
​Grain Bowls
Baked Falafel Bowl - ​This filling and satisfying Baked Falafel Bowl combines whole-grain farro and hearty collard greens, a bright and herbaceous tomato-cucumber salad, cumin-spiked baked chickpea fritters, and creamy Greek yogurt tzatziki sauce.
Spicy Peanut Chickpea Bowls with Sesame Collard Greens - Chickpea bowls served with spicy peanut sauce and seasonal sesame oil greens for the delicious flavors of Thai take-out from home.
​Easy Pearl Couscous with Chickpeas - This 20-Minute Easy Pearl Couscous comes together with just one pot and minimal ingredients. Prep it ahead of time and eat it up for lunch, dinner, or as a side dish.​
Vegetarian Meal Prep Dinner Ideas
You can make pretty much any classic dinner entree vegan or vegetarian! I especially love freezer-friendly recipes since you can prep a large batch and always have an evening meal that's ready to eat after a busy day.
Some of my favorite vegetarian meal prep dinners are curry, tacos, burritos, enchiladas, casseroles, tofu dishes, and fried rice.
Curry
​Roasted Eggplant Coconut Curry - Spicy coconut curry with eggplant, chickpeas, and lots of flavorful spices make this meal a year-round staple.
Coconut Curry Stuffed Peppers - Stuffed peppers get a delicious update with the addition of lentil coconut curry.
​Tacos and Burritos
​Favorite Vegan Tempeh Tacos and Burritos - Vegan tempeh tacos and burritos are a favorite healthy, plant-based weeknight meal. Quick, filling, and (of course) delicious too, this meal has all the makings of a heathy homemade staple.
Sofritas Tofu Burritos - This Spicy Sofritas Tofu Burrito has it all: crumbled tofu cooked in a roasted poblano adobo sauce, cilantro-lime quinoa, corn, and creamy mashed avocado.
Root Vegetable Tacos with Sunflower Seed Queso - Hearty roasted root vegetable tacos drizzled with plant-based sunflower seed queso sauce.
​Enchiladas and Mexican-Inspired Casseroles
​Spinach Mushroom Walnut Enchiladas - Veggie enchiladas with spinach, mushrooms, walnuts, and all the best toppings. Plant-based comfort food at its finest!​
Mushroom Kale Black Bean Taco Bake - A Mushroom Kale Black Bean Taco Bake hits all the right comfort-food notes. Layers of seasonal vegetables, crispy tortillas, and melty pepper jack cheese. There's a whole lot to love about this vegetarian main dish.
Tofu Entrees
​Sheet Pan Tofu Bowls - Sheet Pan Tofu is baked in a sweet-and-savory sauce and served over a hearty mix of grains and lentils in this easy dinner recipe.
Chimichurri Grilled Tofu Skewers - Looking for an easy plant-based meal you can throw on the grill? Layer up these vegan Tofu Skewers with cubed tofu and a rainbow of fresh vegetables, slather with a garlicky and herbaceous chimichurri sauce, and grill until they're perfectly browned and crispy on the edges.
Baked Tofu Harvest Bowls - Crispy Baked Tofu Bowls with sweet potatoes, kale, and an easy, homemade maple-turmeric sauce for fall.
​Fried Rice
​Anything Goes Vegetable Fried Rice - Pretty much all veggies work with this easy Veggie Fried Rice recipe. Swap in seasonal vegetables to make a flavorful plant-based meal any time of year.
Vegetarian Meal Prep Snack and Dessert Ideas
Meal prep doesn't just have to be for breakfast, lunch, and dinner! Making a sweet and savory snack ahead of time ensures you'll never go hungry.
A few make-ahead snack and dessert options are crackers and dip, plant-based jerky, dried fruits and vegetables, refreshing beverages, and cookies and other baked goods.
Crackers and Dips​
Creamy Roasted Red Pepper Lentil Dip - Share this allergy-friendly red lentil dip with creamy, coconut-based yogurt alternative and smoky spices at your next gathering.​
​Pantry Chia Seed Crackers - Make your own chia seed crackers with this simple plant-based recipe. This make-ahead snack is portable and great for dipping!
​Jerky and Dried Fruits and Vegetables
Smoky & Spicy Chipotle Tofu Jerky - Vegan Tofu Jerky is an easy, high-protein snack to make in your dehydrator. This recipe, with thinly sliced tofu pieces coated in smoked paprika, cumin, and hot pepper, is simply irresistible. It's sure to make a tofu-lover out of anyone!​
​Curried Kale Chips - Spicy and full of flavor from tahini, garam masala, and turmeric, these curried kale chips are a delicious snack or crunchy topping for soups and rice bowls.
Dark Chocolate Dipped Pineapple Rings - Dried pineapple rings are delicious on their own but taste even better dipped in vegan dark chocolate sauce, coconut, and lime zest.
​Refreshments
​Watermelon Chia Fresca - Watermelon Chia Fresca is an easy Mexican-inspired drink to make whenever you're lucky enough to have fresh melon on hand.
Homemade Strawberry Oat Milk - Balanced with sweet, tart, and nutty flavors, Homemade Strawberry Oat Milk is an eco-friendly dairy alternative that'll make you feel like a kid again.
​Cookies and Baked Goods
Matcha Sugar Cookies - This simple recipe is flavored with vanilla and naturally colored with a fun green and white marble design.
Vegan Spiced Apple Crumble - Made with fresh apples and warming spices like cinnamon, ginger, and cardamom, this is a dessert recipe that even the most novice of bakers can pull off.
Want More Easy Vegetarian Meal Prep Ideas?
I created a handy PDF guide with more than 100 vegetarian meal prep ideas — including recipe links for breakfast, lunch, dinner, snacks, and dessert. Enter your name and email address below to get this free resource!
Also Available Now: The Easy Vegetarian Meal Prep Ebook
If you're looking for an all-in-one guide to vegetarian meal prep, check out my ebook!
Easy Vegetarian Meal Prep Ebook
This comprehensive digital guide will help you start and maintain a consistent healthy meal prep routine.