Brown Butter Miso Roasted Eggplant is the ideal savory side dish for Asian-inspired meals. This vegetarian recipe is quick, easy, and full of flavor from savory miso paste and nutty brown butter.
Have you ever tried brown butter? I finally got around to making it on my own for the first time last week.
Just like regular butter, you can use brown butter in both sweet (think Brown Butter Pumpkin Tahini Bars) and savory applications.
Either way, brown butter gives food a nutty, caramelized flavor that really kicks things up a notch.
I was a little intimidated by the idea of brown butter before I dug into the actual process. It just sounds kind of...fancy, you know? Thankfully, the how-to is actually super quick and relatively painless.
It's a culinary trick I plan to use over and over again, and I think you should give it a try, too!
How to Make Brown Butter:
All of the beautiful flavor and aroma you get from brown butter is thanks to a cooking process known as the Maillard reaction.
When you heat butter on the stovetop, the amino acids and sugars start to react with each other. As a result, the butter solids turn golden brown and develop deep flavors and aromas often described as nutty and toffee-like. I like to call it delicious.
One word of caution: butter can go from nutty and caramelized to burnt in a matter of seconds. Just be sure to watch it closely the whole time it's cooking and you'll be fine!
Step-by-Step Guide to Making Brown Butter
Slice a stick (or portion of a stick) of unsalted butter into tablespoon-sized pieces. Slicing the butter helps it cook more evenly once it's in the pot.
Melt the butter in a small saucepan over medium heat.
Once the butter is melted, continue to cook until it foams up and the solids start to turn golden brown. You want to give the solids adequate time to brown, but you also want to whisk occasionally to make sure it doesn't burn. This usually only takes about three minutes, so monitor closely.
Once the butter is golden brown and the aroma is strong and nutty, remove it from the heat and pour it into a bowl immediately. (This step is important because you want to stop the cooking process as soon as it's browned to prevent burning!)
You have to watch it closely, but overall, brown butter only takes one ingredient, one pot, and less than five minutes.
It's a no-brainer.
How to Make Brown Butter Miso Roasted Eggplant:
You can use this brown butter miso sauce to flavor basically any roasted vegetable. Beyond eggplant, it'd also be good with crispy tofu, tempeh, fish, or meat.
To make Brown Butter Miso Sauce, whisk:
Brown butter
Miso paste
Sesame oil
Rice vinegar
Maple syrup
Chopped green onion
Grated garlic and ginger
Crushed red pepper (if you want the sauce to be spicy)
There are a few reasons I like to add the sauce at the end, once the vegetables are already roasted.
First, including a saucy element gives more texture and flavor to the finished dish. Everyone loves a good sauce.
Second, butter has a relatively low smoke point. Exposing it to extended high heat in the oven makes it break down and oxidize. (Not good!) You can get around this by adding the brown butter at the end. If you're looking for a way to use butter at higher temperatures, try straining out the milk solids to make ghee, which has a higher smoke point that holds up to roasting.
The final reason I add this sauce right at the end is due to the miso paste, which is a fermented food containing live, active cultures. Like the butter solids, these probiotics don't stand up well to high heat. You can preserve more of them by adding in miso paste after the cooking process is already complete. (I also look for fermented miso in the refrigerated section for this reason.)
Have I convinced you that you need some brown butter in your life?
I love the way this savory and nutty Brown Butter Miso Sauce pairs with earthy eggplant, which hits its seasonal peak between July and October. Once winter hits, try this sauce with roasted squash or a mix of root vegetables.
Try serving this roasted eggplant with:
📖 Recipe
Brown Butter Miso Roasted Eggplant
Thin slices of eggplant are coated in miso brown butter and drizzled with sesame soy sauce.
Print
Pin
Save
Saved!
Rate
Ingredients
Roasted Eggplant:
1

medium

eggplant,

sliced

2

tablespoons

grapeseed oil

1

tablespoon

soy sauce

or tamari
Brown Butter Miso Sauce:
4

tablespoons

unsalted butter

2

tablespoons

miso paste

2

tablespoons

sesame oil

1

tablespoon

rice vinegar

1

teaspoon

maple syrup

1

green onion,

chopped

3

cloves

garlic,

grated

1-

inch piece

ginger,

grated

½

teaspoon

crushed red pepper

(optional)
Instructions
Prepare the Roasted Eggplant:
Preheat oven to 425 degrees Fahrenheit.

Stir eggplant, grapeseed oil, and soy sauce until each piece is evenly coated and spread on a baking sheet. (Divide between two baking sheets or cook in batches if needed to give space in between each piece of eggplant.) Transfer baking sheet to the oven and cook 25 minutes, or until the eggplant is golden brown.
Prepare Brown Butter Miso Sauce:
In the meantime, melt butter in a small saucepan over medium heat. Cook, whisking occasionally, 3 minutes, or until the butter turns golden brown and has a nutty aroma. Immediately pour the butter into a bowl so it stops cooking.

Whisk brown butter with miso paste until smooth. Stir in sesame oil, rice vinegar, maple syrup, green onion, garlic, ginger, and crushed red pepper (if using).

Transfer roasted eggplant to a serving dish and drizzle with miso sauce. Serve with remaining sauce on the side if desired.
Notes
Store in an airtight container and refrigerate up to one week.
Vegan variation: Use vegan butter substitute.
Gluten-free variation: Use gluten-free miso and tamari instead of soy sauce.
Save this roasted eggplant recipe on Pinterest: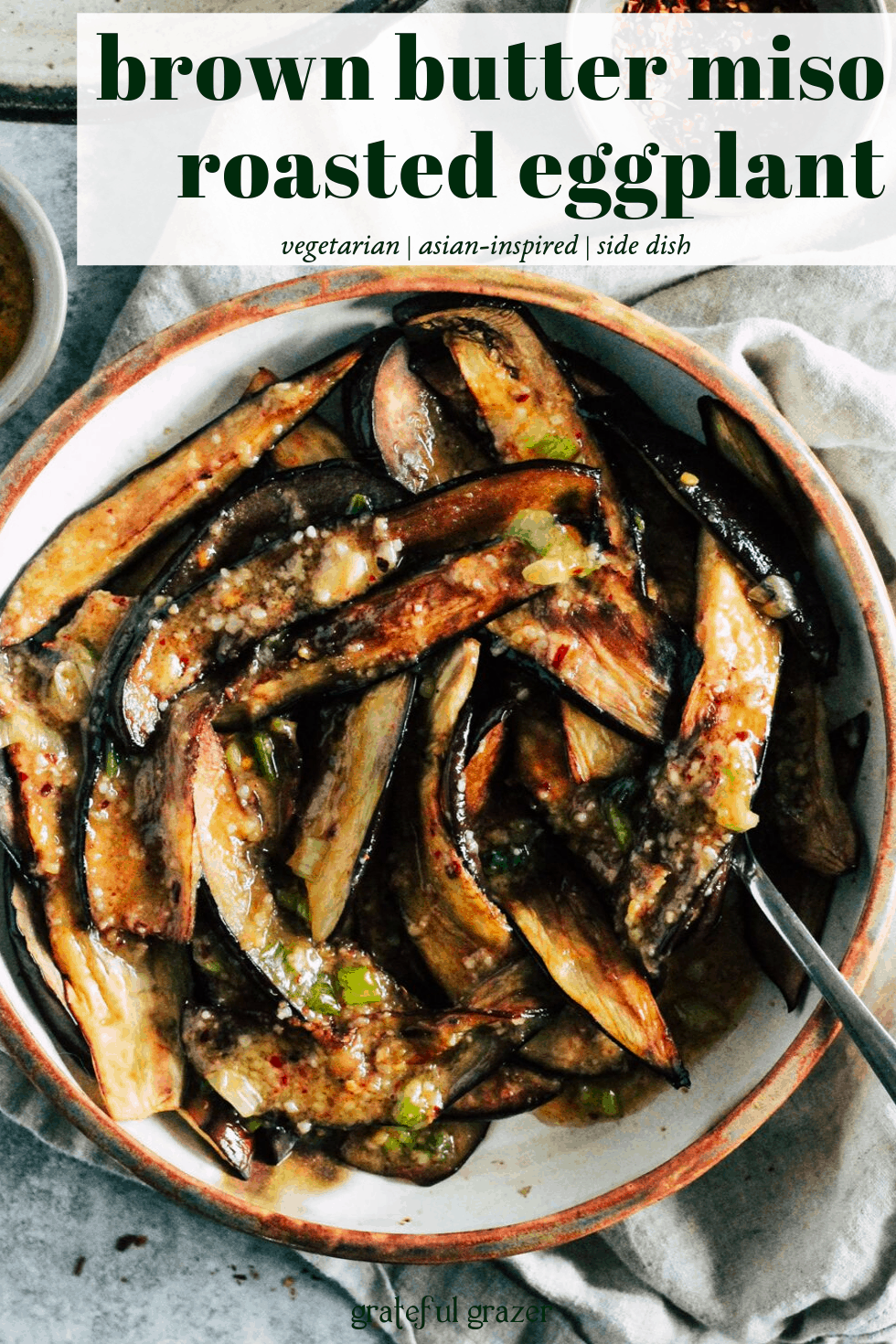 Did you try this roasted eggplant recipe?
Rate and leave a comment below, or tag me (@GratefulGrazer) when you share on Instagram.